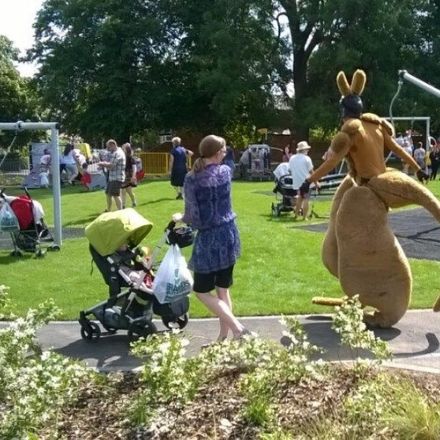 Accessible at all times
Haverhill Recreation Ground is in the centre of the town. It is home to many community events, including the Haverhill Show, and houses a bandstand, children's play area and a splashpad and a refreshment kiosk.
The site was once an orchard and fields before it was bequeathed in 1897 to the people of Haverhill by the Gurteen family in remembrance of Queen Victoria's Diamond Jubilee. After three years landscaping the area, the Recreation Ground was open to the public. It had 249 lime trees, a fountain and benches installed, as well as a bandstand.
A new bandstand was created 100 years later as part of the 2000 millennial year celebrations. In 2021, a new children's splashpad facility was installed which, along with the refreshment kiosk on-site, is now managed and maintained by Haverhill Town Council. Today, the trees planted around the boundary of the site stand in mature splendour and the grounds remain free to the public, as originally intended by Alderman William Gurteen. 
Walks and trails
There is a circular route around the site. There are also dedicated cycle routes across the site.
The two main routes across the site and to the play area are tarmac and can be used by wheelchair users.
Haverhill Recreation Ground facilities:
Playgrounds
Toilets
Snack kiosk in the summer
Splashpad
Getting to the Recreation Ground
Bus numbers 13 and 13A stop 100 metres from the park and run regularly into the town centre. There is also the number 18 bus that stops nearby.
For information on Haverhill's town centre parking, go to West Suffolk Council - Haverhill car parks
Contact
For general enquiries about the Haverhill Recreation Ground:
West Suffolk Parks Service
Email: parks@westsuffolk.gov.uk
Telephone: 01284 757088
For information specifically about the splashpad and refreshment kiosk:
Email: office@haverhill-tc.gov.uk
Telephone: 01440 712858