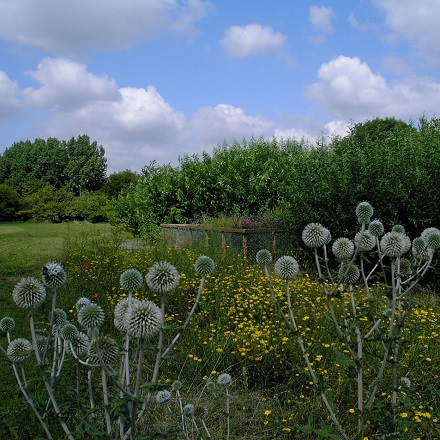 East Town Park is open daily all year round (see below for opening times).
About East Town Park
East Town Park, in Haverhill, has 50 acres of meadows and woodlands to explore. The country park also features an abundance of wildlife habitats, trails, a picnic area, shop and children's play area.
The country park offers an insight into the history of Haverhill with Osier beds that serve as a reminder of the willows that once grew there and were used by local Haverhill basket weavers.
During the spring visitors can see snowdrops, yellow aconites and watch the birds build nests. In the summer there are lizards basking on log piles in the Sturmer meadow and banded demoiselle damselfly dancing around the brook.
Head along the easy access trail which weaves its way through the millennium meadow and offers those with reduced mobility an opportunity to enjoy the diverse wildlife in the park. Or take the five kilometre railway walk along the disused Haverhill to Sudbury line which operated from 1865 until 1967.
East Town Park has a free car park for all visitors.
Opening times
| | |
| --- | --- |
| April | 7am-8pm |
| May to August | 7am-9pm |
| September | 7am-8pm |
| October to March | 7am-6pm |