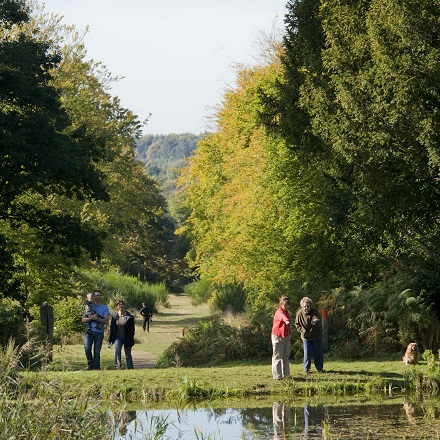 Brandon Country Park is open every day of the year from dawn to dusk. Although we endeavour to open the walled garden daily, from 10-4.30pm, times may vary and access cannot be guaranteed on your visit.
Please note: There are currently three trail closures in the forest around Brandon Country Park from Friday 20 Oct 2023 until further notice
These are due to dangerous trees in target of power lines which will be addressed by UK Power Network in due course.
A diversion has been put in place on the Orange route from Brandon Country Park. The other two closures are on open access land and anyone hoping to use those should use an alternative trails.
We strongly advise the public not to put themselves at risk by using the route between the barriers.
Please see the temporary trail closure map for the locations (marked X) of the trail closures.
About Brandon Country Park
Discover the heart of The Brecks at Brandon Country Park, and explore a land of open heathland, green forests, wide horizons and fresh air.
With over 30 acres of parkland, there's lots to see and do at Brandon Country Park. Located in the vast Thetford Forest, Brandon Country Park lies in the very heart of The Brecks: a wild landscape of dark forests, open heathlands, sandy soils and iconic belts of pine trees that straddles the Suffolk and Norfolk border.
On your journey around the park you will uncover an arboretum, a 'haunted' mausoleum, lawns and a lake, a historic walled garden, play areas and a café. There are miles of nature trails and cycling routes to enjoy.
Brandon Country Park even has an interactive artist-led audio trail - simply download a free app to your phone or tablet, and grab something to draw with, and something to draw on... During the guided walk experience, artist Genevieve Rudd will invite you to take notice of your surroundings and use simple sensory creative techniques that help you tune into the environment, as she encourages you to take a fresh look at the natural world around you and experiment with drawing, writing and photography!
Find out more about the interactive artist-led audio trail
Opening times
Brandon Country Park is open every day of the year from dawn to dusk. 

The café is open:
November to March
Sunday - Friday 10am to 3.30pm
Saturday 9.30am to 3.30pm
April to October
Sunday - Friday 10am to 4.30pm
Saturday 9.30am to 4.30pm
The café welcomes dogs in its designated area.
For information on parking at Brandon Country Park, go to West Suffolk Council - Brandon Country Park - car park
Getting lost
Our walking trails are waymarked, and our visitors guide leaflet has a map, but getting lost in the woods or out on the heath is still surprisingly easy to do!
Here's our tips for staying safe when out and about - whether here at Brandon Country Park, or in the open countryside:
Ensure your phone is fully charged
Download the what.3.words app so that in case of emergency you can let people know exactly where to find you (this clever app provides a precise location specific to 3 metres!)
Download a compass app to your smartphone
Tell a friend or family member what time you plan on returning home.