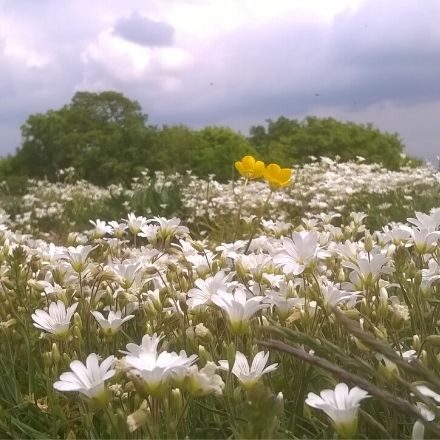 Monday to Sunday 8.30am to dusk
Aspal Close is a surviving medieval wood pasture within the Breckland landscape.
It was home to a working farm up until 1963 and is situated in the village of Beck Row just North-west of Mildenhall. Ancient oak pollards sit on hummocks of chalk and sand, surrounded by open grassland with significant areas of relatively recent scrub.
The site undulates, with dips and hollows originating from glacial action during the last ice age. The site is designated as a Local Nature Reserve and is home to wide range of important wildlife and sometimes hosts guided walking tours.
It has been noted that there are 29 species of butterfly and 270 species of moth around the site. Bat detector records include Natterer's, Common Pipistrelle, Soprano Pipistrelle, Noctule, Barbastelle and Serotine and may include roosts in veteran trees. Barns owls nest on site and there is a large population of common lizard.
Ancient oak pollards
There are almost 200 specimens on the reserve, some of which are over 600 years old. An independent management plan for the veteran trees was produced in 2011 for their long term care.
Breckland grassland
The soil is a mixture of chalk and sand and this special Breckland soil gives rise to a wide variety of flora. Look out for Mouse ear and Meadow Saxifrage in the spring, followed by wild Rock Rose and Wild Thyme in the summer.
Walks and trails
The routes are accessible for parents with off-road pushchairs and people in off-road powered wheelchairs. However, the routes can be muddy and more difficult following bad weather. Some standard wheelchairs and pushchairs would be able to use the Easy Access Trail in good weather.
Aspal Close facilities
Free car park
Picnic area
On site signage and trail
Football pitch and changing rooms
Park regulations
The following regulations are in place for your safety and to protect the environment, please abide by them:
No golf or hard ball games
No unauthorised vehicles
Do not pick the flowers
Do not disturb wildlife
Dogs must be under control at all times
No dog fouling
No fires
No camping
Pick up your litter
Contact us
Phone: 01284 757088
Email: parks@westsuffolk.gov.uk