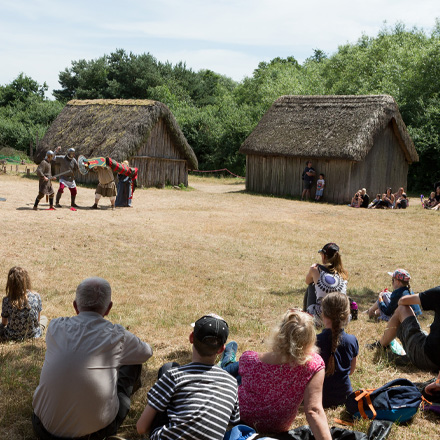 Open daily 10am-5pm (last entry 3.30pm in winter and 4pm in summer)
One of England's great archaeological sites, West Stow is the location of an early Anglo-Saxon village. The settlement was believed to be occupied from AD 420-650, over 400 years before the Norman Conquest.
Today, West Stow has extensive indoor galleries and a stunning recreation of an Anglo-Saxon village surrounded by 125 acres of unspoilt countryside. The reconstructed village consists of eight buildings to see; a farmer's house, hall building, craft building, living house, oldest house, sunken house, workshop and weaving house.
Visitors to West Stow can explore history and nature, watch a film, dress up as an Anglo-Saxon or say hello to the rare breed pigs and chickens. Due to the presence of livestock, assistance dogs only are permitted in the Anglo-Saxon Village.
The West Stow Anglo-Saxon Museum and Gallery features an exhibition of objects and artefacts found at West Stow. The Anglo-Saxon people who lived on this settlement are represented through a variety of displays which tell the story of how they lived and worked using the jewellery they wore, the tools and weapons they used and the items they were buried with.
These objects from the site, along with some from the local surrounding area, are showcased to highlight the culture, beliefs and daily lives of the Anglo-Saxons in an educational and informative way. There is also the chance to dress like an Anglo-Saxon and wear the helmet of a warrior with interactive exhibits. The story of the site unfolds as you walk the galleries, bringing to life the people of the village settlement which existed 1500 years ago in the Lark Valley.
West Stow Anglo-Saxon Village also hosts events ranging from the ever popular Dragon Fest and Ring Quest, to re-enactment days, archery courses and activity days… visit our What's On page to find out more.
For more information about West Stow Anglo-Saxon Village, head to the website: West Stow Anglo-Saxon Village and Country Park