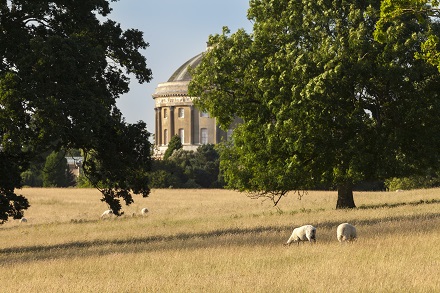 House open 11am to 5pm, Parkland open from 9am to 5pm, Gardens 10.30am to 5pm everyday
The Ickworth Estate can be traced back to the Domesday book when it belonged to the Abbey of Bury St Edmunds. In 1432 Thomas Hervey acquired the land by marriage and the estate was the family's home for the next 500 years. Thomas' descendants transformed the ancient deer-park into what you see today.
In 1701 the First Earl demolished the Tudor mansion that stood on the site and planned a grander home. The construction of the rotunda you see today was built in the middle of the reign of 'Mad' King George III. The house took 47 years to complete. The Herveys enjoyed Ickworth until well into the 20th century.
In 1956 the fourth Marchioness and fourth Marquess presented the estate to the Treasury in lieu of death duties and Ickworth passed to the National Trust so that everyone could enjoy it.
In 2002 the east wing opened as a luxury hotel. The west wing, which was once an empty shell, was completed in 2005 and houses the visitor centre, restaurant, shop and plant centre.
The park allows for gentle stroll or long walks, bike rides and picnics. Visit the Victorian stumpery or head inside the house to discover the real stories of the people who used to live there.
There's so much to see and do at Ickworth. From exploring the parkland on one of the numerous trails, to learning about the history of the house.
Enjoy relaxing in the Italianate gardens or rejuvenating in the cafes or get active on a cycling route.
Facilities:
Three cafés
Toilets with baby-changing facilities
Gift shop
Car park with designated mobility parking for Blue Badge Holders
Parkland
Children's playground
There is parking 200 yards from the west wing and house. Dogs on leads are welcome on the estate (apart from the Italianate gardens, west wing or house, unless a guide dog).
To find out more about the house, parkland and gardens, visit: National Trust website - Ickworth