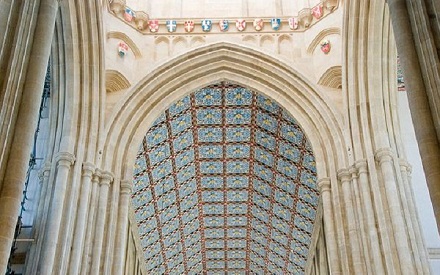 Open Monday to Friday 7.15am – 6pm, Saturday 8.30am – 6pm, Sunday 7.15am – 6pm
St Edmundsbury Cathedral has a long and fascinating history. There has been a church on the site since the 11th century, which was originally dedicated to St Denys before being rededicated to St James. The building you see today dates from the 16th century, when the church was rebuilt. Renovations in the 19th century include the roof and font designed by George Gilbert Scott.
The church became the Cathedral of the Diocese of St Edmundsbury and Ipswich in 1914, and work began to transform it into a cathedral. The Millennium Project saw the completion of the building with the addition of the tower, new cloisters and chapels.
The cathedral holds regular services, including Evensong, as well as concerts and other events, guided tours, tower tours and community events.
Guided tours run from 1 May to 30 September, Mondays to Saturdays at 11am, starting at the font, and Tower Tours run on Saturdays at 10.30am and Sundays at 1.45pm. Tickets for these are available from the Tourist Information Point which can be found adjacent to the Cathedral Shop, and Tower Tours can be booked through the website.
The cathedral is a versatile space, available to hire for events such as concerts, theatre performances, dinners, awards and presentation evenings and lectures. We can accommodate up to 700 people seated in the nave. For formal dinners, we can accommodate up to 300 people.
The Edmund Room is a bright, spacious room available to hire for a variety of events, including meetings, parties and receptions. It comes equipped with projection equipment, a microphone and lectern. It has a maximum capacity of 80 (theatre style). Other layouts such as boardroom, classroom and u-shape are possible. We are able to provide refreshments and lunch courtesy of our café, Pilgrims' Kitchen.
Pilgrims' Kitchen Café is open Monday to Saturday during the day and is available for private functions evenings and weekends.
To find out what current events are being held at the cathedral, visit St Edmundsbury Cathedral - What's on