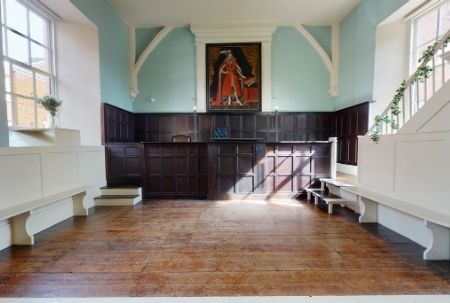 Open for special events
Bury St Edmunds Guildhall is a beautiful historic building in the heart of the town's picturesque medieval grid.
The earliest reference to the guildhall is in 1279 and the street upon which it was built has been known as Guildhall Street since the 1290s. It is believed to be the oldest continuously used civic building in the country. The guildhall has a fascinating history and has seen a huge range of uses over the centuries. From imprisoning kidnapped monks to housing Cromwell's soldiers, hosting abolitionist meetings to theatre rehearsals, the guildhall has so many stories to tell.
In 2018 the guildhall completed a £2 million restoration which breathed new life into the Regency banqueting hall, panelled court room, Tudor kitchen, and Second World War operations room, as well as the tranquil walled gardens.
These spaces are now fully accessible and provide the perfect venue for special occasions, including wedding ceremonies and receptions. The guildhall also hosts cultural events including concerts, talks, exhibitions, and workshops.
To find out what's on at the guildhall, head to the Bury St Edmunds Guildhall website or visit our What's On page to find out more.